The 2023 iDesign POP Summit
Did you follow my trip to Sarasota? I tried to post as much as possible but I wanted to jump over here to dive a little deeper, and share a little bit more. Dusting off my blogging skills too! Stay tuned, I'm going to be more consistent from here on out with our blog. I have some exciting, personal, and great content coming for you once a month!
Whether you're a fellow professional organizer, one of our lovely clients, or someone who's obsessed with home organization, chances are you know and love the brand iDesign. I consider them the OG when it comes to organizing products (they've actually been around longer than The Container Store!) and I've been honored to serve as an iDesign brand ambassador for the past 4 years. I'm also excited to announce that they're rolling out a professional organizer program (aka POP) that will be a game changer for the industry.
Recently, Simply Luxe and two other phenomenal organizing companies were invited to the first annual iDesign POP Summit in Sarasota, FL. (I had never been!) Together, we learned about the new program, gave our professional opinions, and we have already begun beta testing it so that it's perfect when it launches in January 2024 and is available to all organizers! I'd like to use this post as an opportunity to highlight how POP will help your business.
But, even if you aren't a pro organizer, stick around because I'm also sharing details from this incredible trip (in case you want to check out where we stayed!) and some of my favorite iDesign products that you can score for less during this upcoming Amazon Prime Day happening 10/10 through 10/11.
The iDesign Professional Organizer Program
While I can't reveal too much ahead of its debut, I can tell you that it's going to make purchasing iDesign products a whole lot easier and more accessible. So although the benefits of POP will be exclusive to professional organizers, clients will inevitably feel it too which is a win-win. Some of those exciting benefits include pricing perks, connecting community, collaboration opportunities, and early access to innovative products.
At the summit, we were actually able to get a sneak peek into upcoming iDesign collections (the new Home Edit line too!) and even gave some input which was a pretty surreal experience. I'll get more into the event in a second but, first, make sure you're following Simply Luxe Organizing and iDesign on Instagram to hear more info about POP as it gets closer to January so you can jump on board!
I definitely traveled the farthest, coming in from San Diego, but joining me in Sarasota was the mother-daughter duo, Angela (from Atlanta) and Savannah of Methodical Muses , and the sister team, Ea and Meg of The Tidy Home (from Nashville), and Sumner of The Home Edit https://thehomeedit.com/ (also from Nashville).
It was wonderful getting to spend time with these ladies, they are incredible! (Did you watch Sumner on the Netflix binge worthy Get Organized episodes?!)
Still a pinch me moment that we were the selected few to bring our brains together so we could lend iDesign our insight as organizers.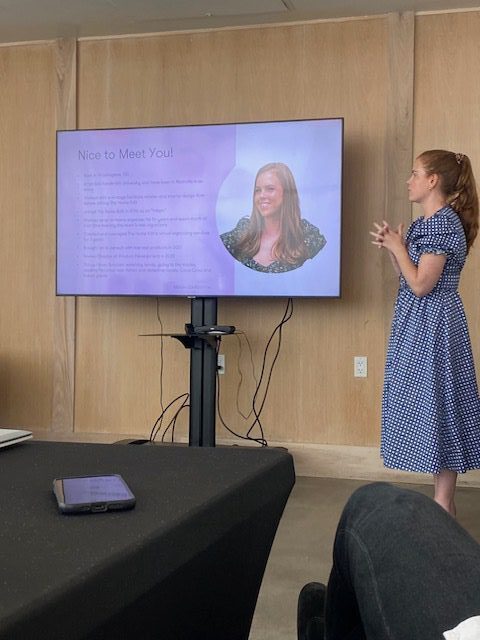 We stayed at the stunning The Sarasota Modern, a Tribute Portfolio Hotel (have you stayed at a Marriot Tribute hotel yet?! Highly recommend-so fun to get that boutique feel AND to get to use your Marriot points!) I love my Bonvoy points and use them all the time, might be the start of another blog to get to tell you all about my travels!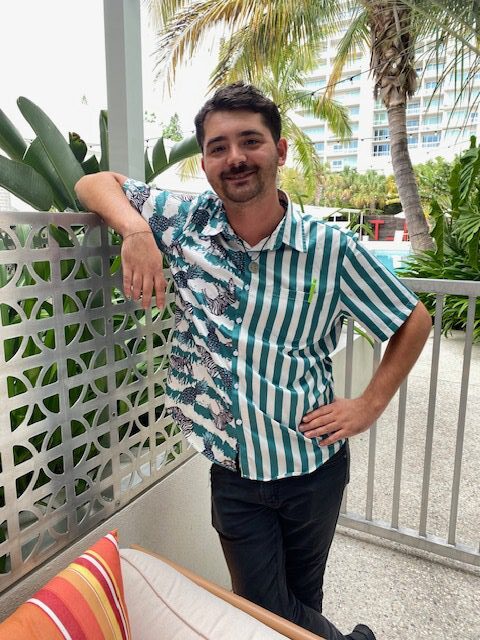 Our first order of business was a meet and greet during a mixology class. I mean, talk about an icebreaker (plus, they even taught us to create an iDesign themed cocktail!). Have you used edible glitter at an event before? SO fun!! Even though I wore white pants like a rookie and might have ended up using soda water for a Hail Mary to save them getting blue glitter out of them. Our fav server ever even came in one his day off one of the days. His name was Ethan and we got a photo of him, haha.
Here is the recipe incase you want to make it! Make sure to muddle the blackberries and mint:
1.5oz Old Forester 100
.5oz Blue Curaçao
3 blackberries
2 orange half slices
.5oz agave
.5oz lime
3 mint leaves
Club Soda Floater
We then started off the first full day of the summit with a rooftop yoga class led by one of iDesign's incredible employees, Bella. This was the reset and reboot I needed after such an emotional week, long flights, and the three hour time difference.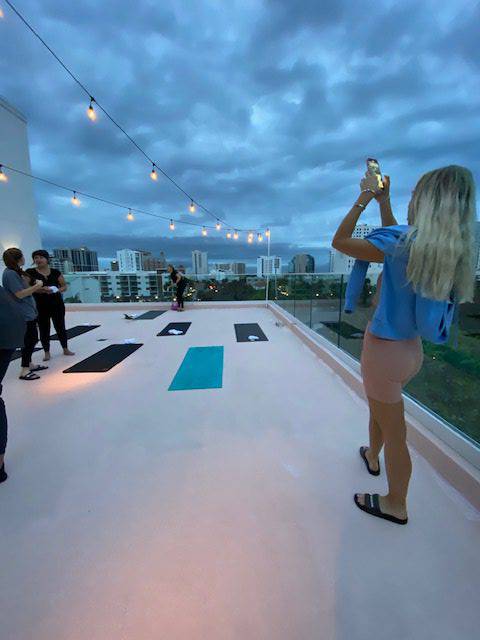 The rest of the day consisted of meetings before dinner which was held at Speaks Clam Bar in St. Armand's. I had the lobster and shrimp pappardelle, eek, sooo good! I can't recommend it enough if you're in the area! And then I went next door for some Turkish baklava, what a treat! Took me right back to my travels to Turkey.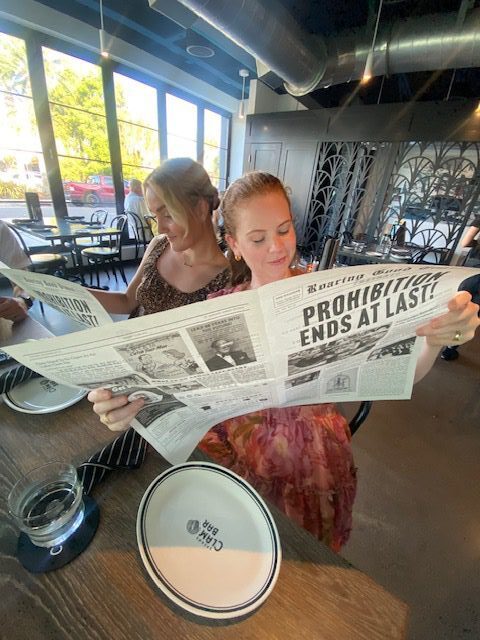 Day two took place at iDesign's Sarasota office, and that was when we really got to learn about POP and give our feedback from a professional organizer's perspective. Afterward, we were able to squeeze in some pool time before dinner on the beach hosted by 2 Chicks and a Picnic who created an amazing #girldinner spread for us. It was a boho princess dream!!! Seriously, go check them out if you're in Sarasota, and check out this Instagram Reel by Methodical Muses that perfectly encapsulates the entire event.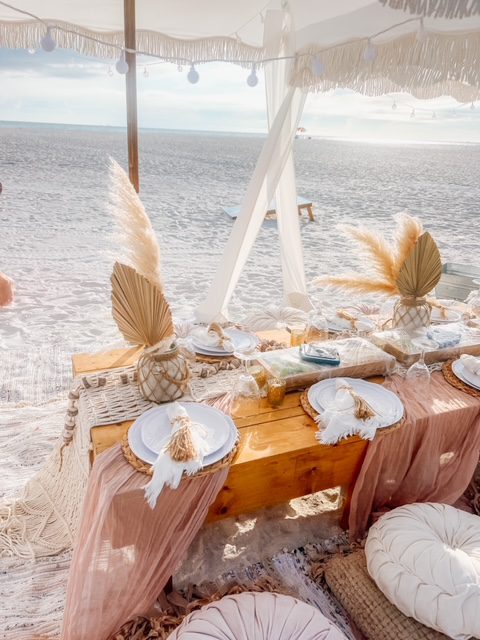 Prime Day (and beyond!) iDesign products
I've been using iDesign products for my client's homes since I started professionally organizing. I can honestly say I love them just as much as I love the company that makes them. The quality is high end and the variety is endless! Here are a few of my favorites that will be eligible for Prime Day deals soon, but keep them in mind for any time of year you feel like reorganizing.
iDesign Sarah Tanno Collection Cosmetics Organizer:
I love the versatility of this three drawer acrylic organizer. It's a great starter for makeup or skincare storage but you can add on if need be since it's stackable. Plus, it looks super cute on bathroom or vanity counters!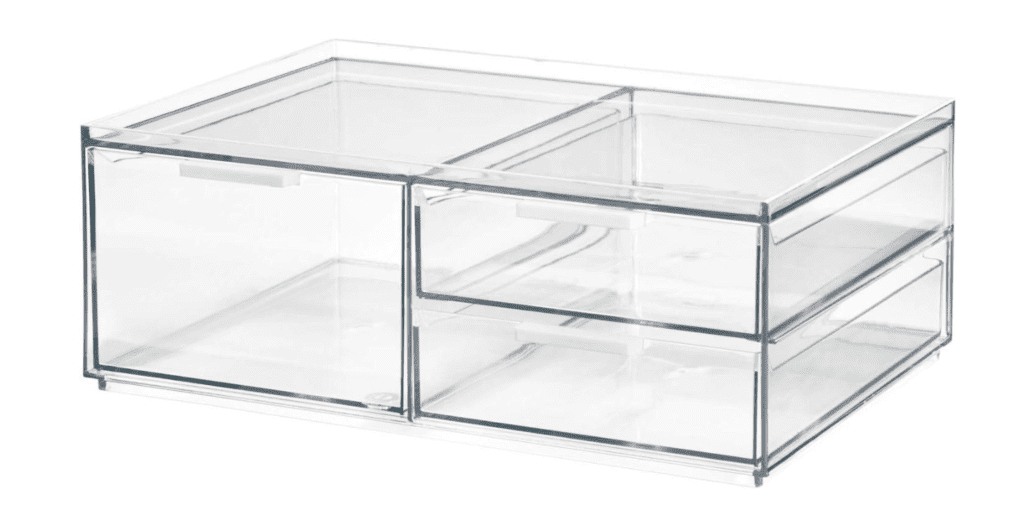 iDesign Linus 11 in Turntable:
This lazy susan is a staple! If you don't have one by now, this one is perfect for first timers. You can use it in the bathroom for products if you want them a little more accessible. Otherwise, try it in the kitchen to corral spices or condiments, under the sink for cleaning products, or in the laundry room for supplies. If you need a smaller diameter, try the 9 in version that also comes in this smoke color.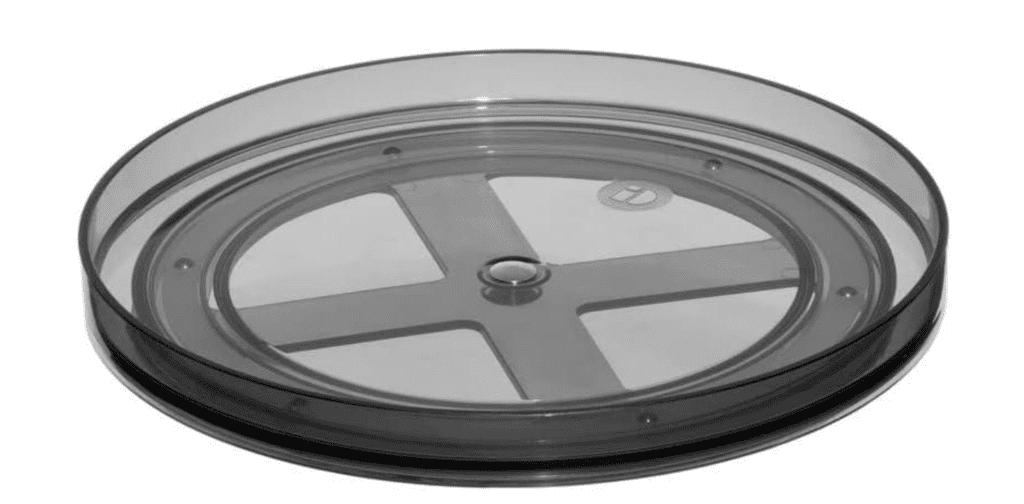 These are another go-to product for kitchens, pantries, playrooms, literally anywhere! They come in lots of different sizes, can stack, and have handles that make them easy to grab off of shelves. Plus, they're clear so you'll always know what's being stored inside them.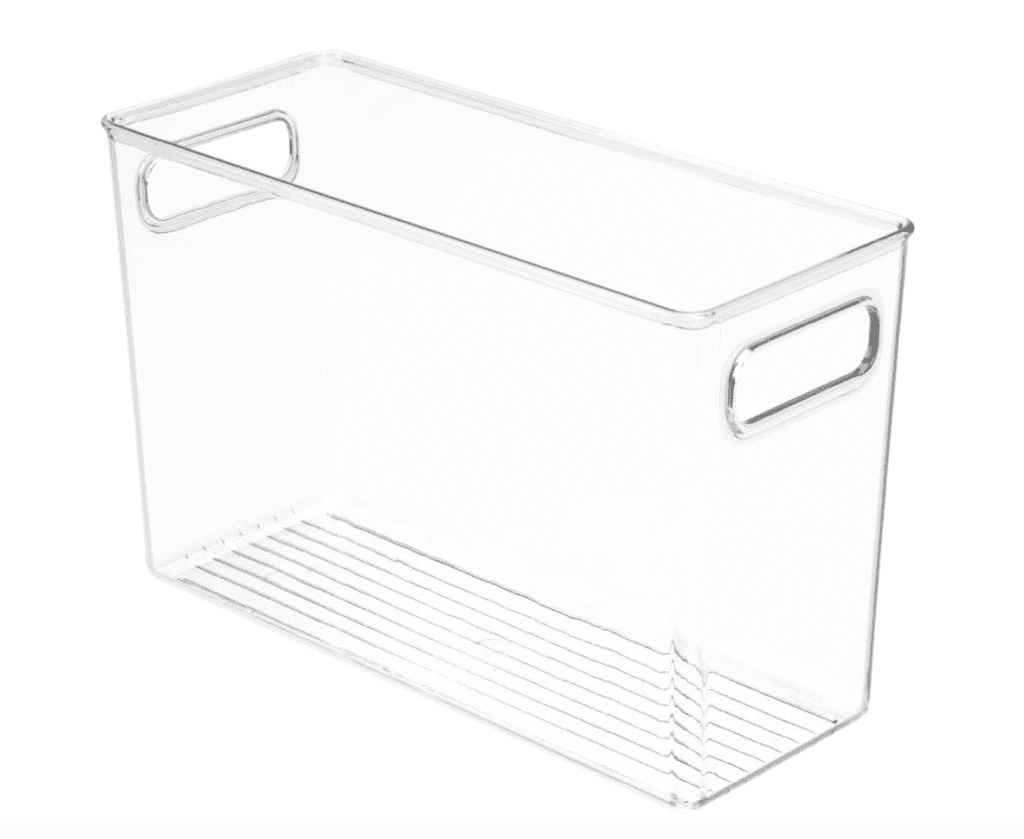 Overall, it was so cool to be a part of the iDesign POP process and I can't wait to see it come to fruition. In the meantime, keep following us on Instagram and reach out if you're local to Southern California, or looking for a San Diego organizer, or Orange County organizer, or even just visiting in the San Diego or Orange County area we would love to meet up and say hi or give some recs of our city.
All of us at Simply Luxe love what we do, and we would love to help you with your organizing goals!
Xo, Ryen