37 Book Organization Ideas: The Ultimate Expert Guide
Published on March 22, 2023 by Jamie Forbes
If you're like most people, chances are you have accumulated many books over the years. But what do you do with all of them? How do you keep them organized and easy to find when you want to reread or recommend them to a friend? The task can seem daunting, but with a few creative and practical ideas, you can turn your cluttered bookshelves and scattered stacks into stylish, organized displays.
And it can be fun, too. In this article, we will explore 37 book organization ideas verified by experts to help you make the most of your belongings. Whether you live in an apartment in Boston, a house in Bend, OR, or anywhere in between, read on to learn how to organize your books
1. Meditate before decluttering Before starting an organization project, try meditating. This way, you can bring openness, creativity, and wisdom into your day. "Then, once you're done decluttering, you can have more space in your mind and body," says Kimberly Reynolds, owner of Simply Spacial. "Meditation and organization work well together."
2. Round up your books to understand the scope of your project First, gather books from around your home to see if you can eliminate any of them. "Sort these into piles, like keep, donate, and more," says Lauren Saltman, owner of Living. Simplified. "Once you have a finalized collection of books, your project will be much easier."
3. Sort your books into three categories for easy organizing If your New Year's resolution included a reading challenge, start with books you own but haven't read yet. "To make this easier, organize your books into three categories: books you have read and want to keep, books you have read and want to donate, and books you haven't read yet," suggests the team at Meori.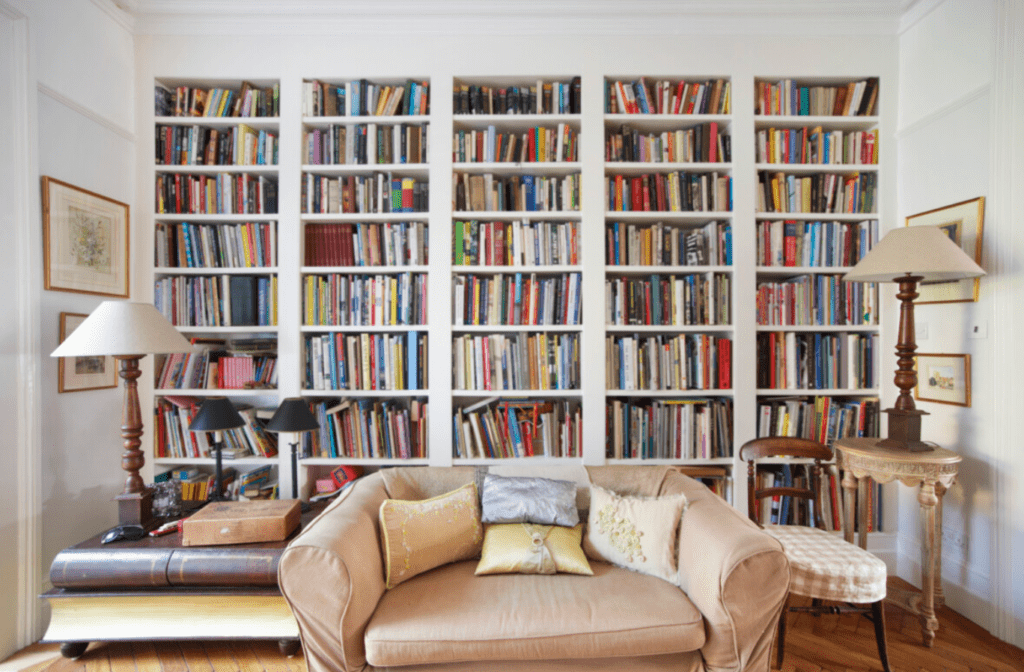 4. Reduce your collection The simplest way to stay organized is to have fewer things. "Consider donating your books to a local charity or giving them to your library," suggests Whitney Zeigler, founder of Big Rocks Organizing. Once you downsize, "you can begin sorting your books and creating a stylish, functional home," says Cathy King, owner of The Sustainable Organizer.
5. Think outside the box when it comes to donating When it comes to donating books, you have lots of options. Local libraries are a great option, but, "you can also search online for other donation spots in your area, such as prison book donation programs or community book exchanges," says Marla Alt, founder of 123Organize.
6. Take stock of your available space Do you have enough shelf space for all your books, or do you need to get creative with storage solutions? "Consider using bookshelves, built-in shelving, or storage boxes to make the most of your home's space," says Rosetta Metz, founder of Lettuce Organize.
7. Think about how you want to display your books After you declutter your books, you can display them in a way that tells a story about your life. "For example, store travel books on the top shelf of your bookcase and group childhood favorites next to a treasured family photo or item," says Meredith Ryness, owner of Tidy LA. Minimalist library
8. Handle your books with care There is no right way to organize books; everyone uses them differently and will benefit from different organization methods. "However, there are some universal tips," says Jean Prominski, owner of Seattle Sparkle. "Store books upright, don't write in them, and only touch them with clean hands or gloves." Tami Lefko, the owner of California Clutter Coach, agrees that you should never let books lean. "This can damage their spines," she says. "Use bookends on shelves when necessary to keep the books standing upright."
9. Keep books away from sunlight Windows are beautiful and add natural light, but the sun can damage your books over time. "If you have a home library, make sure to install dark curtains or other drapery to protect your collection," says the team at HomeZada. "This keeps them in better shape for longer," agrees Josh K. from Knotted Spaces.
10. Figure out how you use your books Before committing to an organizational method, it's important to understand how you use your books. For example, "if you want to organize books for display, sorting by color is the best option," says Kristy Potgieter, founder of Sortifi. "If you want to organize for future reading, sort them by category or genre before color and height.," she says. "For larger collections, organize alphabetically." Regardless of your choice, "they will either end up being organized or looking organized, both of which are great outcomes," says Becky Rogers, owner of Organize My Clutter.
11. Group your books according to your vision and needs "If you have a large collection and want to access them frequently, group them by genre," note Annmarie Brogan and Marie Limpert, co-owners of Organize Me! of NY and co-authors of the book, Beyond Tidy: Declutter Your Mind and Discover the Magic of Organized Living. "If you rarely reread books, you can organize by color and size, emphasizing aesthetics." Living room
12. Pay attention to small books Small books, such as paperbacks or pocket-sized books, are easy to store on bookshelves or in baskets or boxes. "You can group them together by author, genre, or subject, or organize them alphabetically by title or author," says BarbaraJo Hatch, owner of BarbieJo. "If you have a large collection of small books, you can also use a filing system to organize them." Another option is to "group them together and store them in labeled magazine holders," says the team at Sort, Store and Style. "This way, they can serve as bookends for larger books and provide a cleaner look."
13. Learn how you acquire books For example, do you like to purchase your books, or do you use a library? "If you purchase most books, plan on lots of extra shelf space for future books," advises Leigh Ann Cutright, owner of A Functional Space. "For library users, designate a small space on a shelf for each week's library loans." If you use an e-reader, designate a small space for decorative books and leave most of the area for other decorations.
14. Organize by size and color If you decide to organize your books by size or color, there are a variety of ways to go about doing so. Ryen Toft, owner of Simply Luxe Organizing, has a few recommendations to help you get started. "Place the largest and brightest books in the center of a shelf and the smaller and darker books on the edge," she suggests. "You can also consider sorting them in rainbow order." Even if you prefer your books organized by genre, you can still reduce visual clutter by lining them up in rainbow order within each category. "If a category doesn't take up an entire shelf, use an attractive bookend and fill in empty spaces with plants to help the room come to life," advises Susie Salinas, owner of Systems By Susie.
15. Sort by date read Apart from color and genre, another option is to organize by date read. "Jot down the date you completed the book on the inside cover and arrange your books from oldest to newest," says Joanna Wirick, owner of Joanna Organize. This way, you can easily add books to your collection as you read them.
To read more check it out here: